What makes our karts so good?
Go karting is the closest most people get to being a motorsports driver. You can get the thrill and excitement of real life racing no matter what your skill level.
To get the best racing experience, you need the best karts. That's why we searched far and wide to find the best go karts available anywhere in the world.
Here's what makes our karts so good.
Go kart components

Our go karts are designed just like professional race cars but on a smaller scale. The same basic ideas go into the design and development with the goals of maximising speed, performance, and safety.
Our main go kart components include:
Engine – Honda GX 4-stroke engines provide ample power and a high power to weight ratio.
Steering – Rack and pinion steering provides smoother and more precise manoeuvring through corners.
Pedals – Adjustable pedals allow for comfortable driving positions for drivers of (almost) any height.
Brakes – the Anti Gas Brake system prevents drivers from accidentally using the accelerator and brakes at the same time, improving safety and reducing wear on the kart.
Body – Bodywork covering moving parts makes our karts safer and include headlights and brake lights for safe driving at night.
Every part of the kart is designed to make your driving experience as good as it can be. Check out all our karts here.
How are go karts made?
Our go karts are designed and built by SodiKart, a world-class manufacturer based in France. We chose them for their ongoing commitment to quality, innovation, and the racing spirit.
SodiKart has pioneered a variety of new technologies in their karts which have made them safer and faster than just about anything else on the market.
Along with their innovative designs and technology, SodiKart uses the latest technology to manufacture their karts. They use CNC machinery to manufacture all go kart components to ensure consistent, high-quality results. It's the same manufacturing quality that goes into producing regular cars and professional race cars.
Ace Karts through the ages
Before our current world-class go karts, we had a series of other designs. We started with fairly humble origins and gradually improved our karts until we got to where we are today. The history of our karts includes:
1994-1997
Originally Ace Karts purchased Silhouette karts which were very basic go karts powered by a Honda GX270, 9 horsepower engine. They had mechanical brakes and very basic protection around the wheels and sides.
1997-1999 – We designed our own go-karts which came in 2 variants: the Modified Kart and the Super Kart.
Both karts had open wheels, had hydraulic brakes, and were powered by Honda engines. The Super Kart had the more powerful Honda GX270, 9 horsepower engine while the Modified Kart was designed for beginners and kids with a Honda GX200, 6.5 horsepower engine.
1999-2014 – We kept the two different models but improved their designs. we kept the same engines in each but upgraded the chassis to chromoloy steel and added proper wheel protection.
2014-Today – Today we use the SodiKarts described above, and they're the fastest and safest karts we've had.
The best way to experience real life racing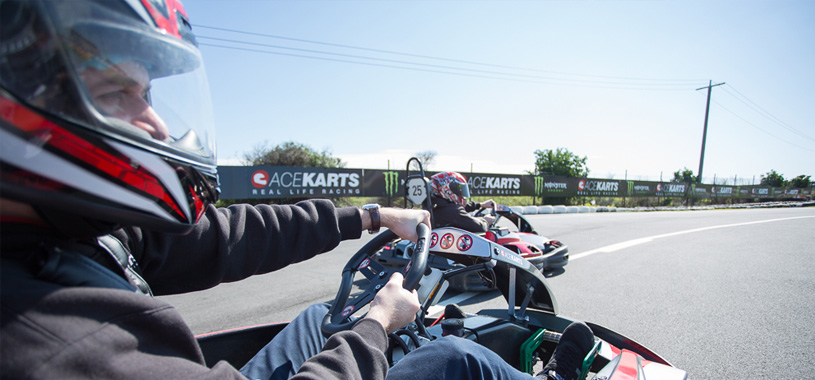 We take racing seriously here at Ace Karts. We're striving to make our racing experience as close to the real thing as possible. Everything from our karts to our track has been designed to give you the best experience possible.
Our karts are among the best you'll find anywhere in Australia and even the world. But the best way to find out about that is to drive one.
Are you ready to try our karts for yourself? Book your race today or call us on 03 9360 5005.
Must Read
Ace Karts on 28 October 2016
It was a fantastic night of racing as our finalists battled it out for the Grand Final win ...
Read more
Ace Karts on 18 April 2016
You've shopped around. You've looked at a couple of karting centres' websites. And after careful thought, you've decided to go with an indoor centre out in the sticks - mainly because it' ...
Read more