Outdoor Go-karting vs Indoor
Schumacher's Ferrari. MacRae's Impreza. Whincup's Red Bull V8. Ever seen them racing around an indoor track? In fact, can you think of any type of competitive motorsport - any at all - that takes place indoors?
Neither can we.
So why is go-karting different? After all, there are plenty of indoor go-karting tracks in Melbourne. Is there a particular reason karting is such an anomaly in motorsport?
Here's the inside track on why indoor go-karting, despite its apparent popularity, doesn't compare to the real thing...
Real Racing
The downside to indoor karts is that they are...well...a bit lame. They can't hit the high speeds of outdoor karts like the Ace Karts Super Kart. They don't handle like real racing machines. But most importantly, driving an indoor kart just feels artificial. There's no roaring, rattling engine. No feeling of power beneath your feet. It's a bit like racing a motorised shopping cart.
In short, nobody ever had a real life racing experience indoors. Motorsport is an outdoor pursuit. That's why the best go-karting tracks find ways to overcome environmental challenges.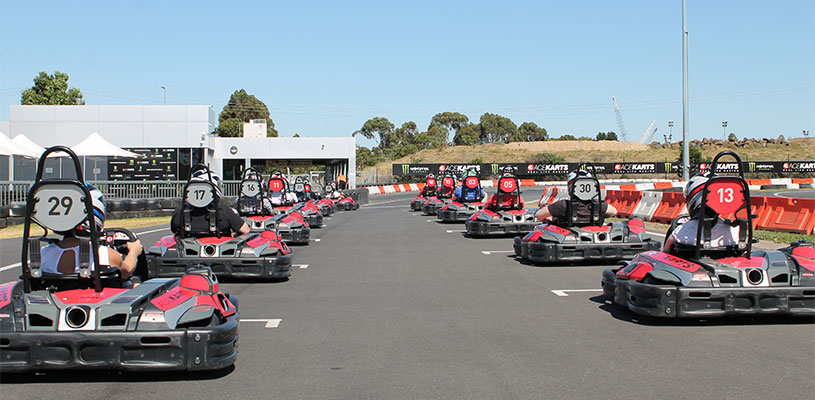 The Ace Karts outdoor track has professional-standard floodlights that allow racing well into the night.
And thanks to the awesome power and handling of our Sodikart fleet, a wet track is no problem. In fact, it adds an extra layer of awesome as the rain sprays from your tyres behind you.
Professionalism
Many track operators see go-karting as closer to a fairground attraction than a true motorsport; a leisurely pursuit similar to dodgem cars.
Just look at how many indoor tracks are part of larger general entertainment complexes; the kind of generalist facility that offers paintball, laser tag, mini golf, arcade games and bowling. How much can their staff possibly know about go-karts if they spend half their day resetting bowling pins?
Thankfully, there are karting centres that cater for real racers. The people who want to go-kart because they like going fast. Who want red hot excitement and not a lukewarm afternoon spin. Who'd like a track that gives them chance to test the limits of their driving skills.
That's why Ace Karts is staffed by pro go-kart racers. It's why we have a dedicated race engineer who'll fine-tune your kart right before you race it. And it's why we have top-of-the-line karts that can reach 75km/h around our challenging 700m outdoor track.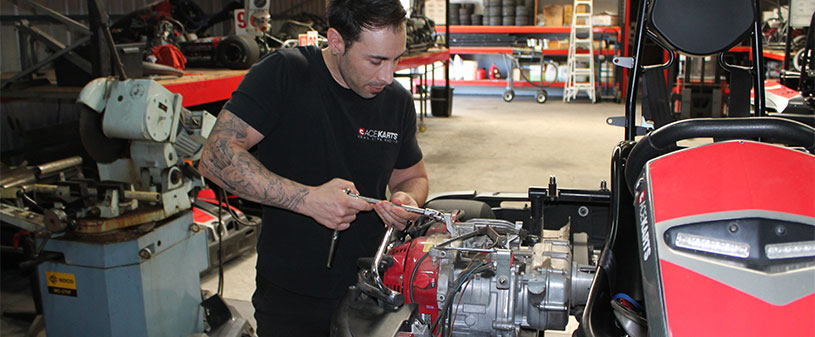 Safety
There's a general conception - an incorrect one - that indoor karting centres must be safer than outdoor ones. Because slower karts and shorter tracks with fewer corners must mean fewer crashes, right?
In fact, the opposite is true.
These centres tend to cram their tracks in as tightly as possible to make use of limited indoor space. There is usually no run-off area, with the tracks instead being lined with tyres. This can be extremely dangerous as a misjudged corner can see racers bounce off the tyres back into the path of other karts.
Outdoor tracks on the other hand have proper grass run-off areas to help you come to a safe stop - far away from other racers. And true racing facilities like Ace Karts will flank those run-off areas with professional-standard impact-absorbing barriers.
So there's really only one main difference between indoor and outdoor go-karting: everything.
To book a real life racing experience, call Ace Karts on 03 9360 5005 today.
Must Read
Ace Karts on 28 October 2016
It was a fantastic night of racing as our finalists battled it out for the Grand Final win ...
Read more
Ace Karts on 18 April 2016
You've shopped around. You've looked at a couple of karting centres' websites. And after careful thought, you've decided to go with an indoor centre out in the sticks - mainly because it' ...
Read more