Race your dad this Father's Day 2017 for an exclusive offer
It's time to end the debate once and for all. Who's the fastest? You or your dad? This Father's Day at Ace Karts we're stepping things up a gear. We're offering one free Schumacher race session to each customer who brings their dad along - so Dad can race for free. This offer is limited to one per customer and must be booked over the phone. So now there's no excuse to put that pedal to the metal and prove him wrong!
Book now: Book your race over the phone for Sunday, 3 September and get an additional Schumacher race free!
A Father's Day to remember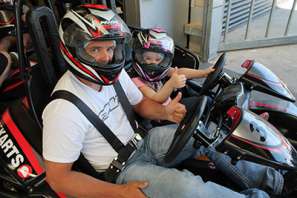 Is he sick and tired of the same gifts and family outings year after year? An adrenaline-fuelled day at the track could be just the thing to make Father's Day 2017 legendary. Reserve a time, rock up and race against your dad. Or maybe not? Don't forget there could be others hungry for a position on the podium. Join forces and work together to outwit and overtake your competitors on the racetrack!
Choose your vehicle
Custom-built for easy and safe handling, Rookie Karts are great for dads with little experience on the race track. Driving the Super Kart is the best way for him to rev up and release his inner speed demon at a whopping 75km/h! Assemble the ultimate racing team with a 2Seater Kart. The perfect option for fathers and kids to share the experience of kart racing.
|   | SUPER KART | ROOKIE KART | 2SEATER KART |
| --- | --- | --- | --- |
| TOP SPEED | 75km/h | 40km/h | 55km/h |
| LAP RECORD | 36:154s | 51:972s | 48:564s |
| POWER | High power-to-weight ratio | Safe for younger drivers aged 6-11 | Mid-mounted Honda (270cc or 390cc) engine |
| HANDLING | Highly responsive | Easy steering for beginners | Easy and comfortable |
No obstacles, no excuses
Whether it's day or night, our racetrack is fully operational with floodlights so the action never stops. Don't stress about the rain either, we'll still host your race. It takes more than just a few drops to dampen our spirits on race day.
The good times don't stop at the finish line
After the big event, it's time to reminisce on your stunning victory — or what could have been. Our BBQ area is perfect for kicking back and relaxing with the family. Bring your own cooler full of food and drinks. We'll happily fire up the BBQ in time for lunch. Alternatively, there's always plenty of snacks available from the kiosk.
So what are you waiting for?
With over 700 metres of intensifying bends, he'll experience outdoor go karting on one of the most challenging tracks in Melbourne. Don't believe the hype? Take your dad along for the challenge and let him be the judge. Can't make it on Father's Day? We still have great value gift cards available so you can always take a rain check with your dad on a later date.
Call to reserve a spot this Father's Day on 03 9360 5005.
Must Read
Ace Karts on 28 October 2016
It was a fantastic night of racing as our finalists battled it out for the Grand Final win ...
Read more
Ace Karts on 18 April 2016
You've shopped around. You've looked at a couple of karting centres' websites. And after careful thought, you've decided to go with an indoor centre out in the sticks - mainly because it' ...
Read more