9 things to do in Melbourne if you love cars
Things for car lovers in Melbourne
Whether you're a die hard rev-head or simply someone who appreciates good car design, you're sure to find something to satisfy your inner car enthusiast in Melbourne.
There's thrills at the track, leisurely walks around car museums, as well as joyrides in exotic rental cars. Whatever your speed, there's an activity to match.
Here are nine things to do in Melbourne if you love cars. Includes ideas for both visitors and locals.

9. See vintage sports cars at the Fox Classic Car Collection
Iconic Australian businessman Lindsey Fox has now opened up his collection to the public.
Located in Docklands, the Fox Classic Collection has more than 50 prestige vehicles on display. All of them were specifically chosen and ordered by Lindsey Fox over more than 30 years.
The collection includes classic sports cars from Mercedes Benz, Porsche, Ferrari, Jaguar, and more. However, be sure to check opening dates, as this venue is only open during select months.

8. Be a stunt driver at Stunt Driving School
Ever wanted to drive like they do in the movies? Now's your chance.
Drive on two wheels, do a 360° spin, or take on a ramp jump. The Stunt Driving School is perfect for thrill seekers who are looking to put their driving skills to the test.
You'll get time with an instructor, access to the school's hot Mini Coopers, and plenty of room to move. So you can act out your favourite scene from the Italian Job, the Bourne Identity, or Diamonds are Forever.

7. Run with the bulls, take a joyride in a Lamborghini
Take a drive in a vehicle hand-built by one of Italy's finest super car makers.
Super cars from both Ferrari and Lamborghini are available for hire, and there's plenty of nearby roads for joyriding on. For the best experience drive with the top down!
Ask your hire company about suggested driving routes. The last thing you want is to get your 500hp dream machine stuck in traffic.

6. Experience real life racing at Ace Karts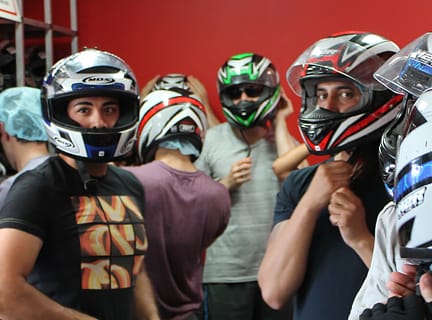 Think you can drive? Prove it.
The Ace Karts track features 700m of twists and turns. And it's completely outdoor, so you're not limited by indoor speed restrictions, which is great 'cause you'll be driving super karts capable of 75km/h.
This is as close as you can get to pro racing without a fireproof suit. Driving is fast, furious, and sure to ignite your competitive streak. It's also perfect for settling old rivalries with mates!
 5. Take a cruise along the Great Ocean Road
Starting just outside of Melbourne and snaking its way along the coast, this is one drive you won't forget.
With over 243 kilometres of heritage listed tarmac, there's plenty to see and experience along the way, including the famous 12 Apostles, Great Otway National Park, and Volcanic Plains.
You can make the trip extra special by hiring a classic car for the weekend. Can you imagine cruising by the beaches in an open-top Mustang? It sounds to us like a dream come true.

4. Watch the Australian Formula 1 Grand Prix
The Formula 1 Grand Prix is the highlight of the Melbourne motor racing calendar.
Staged at Albert Park Circuit, the race is famous across the world for its thrills and spills, with past winners including racing heavyweights like Lex Davison and Michael Schumacher.
The roar of formula 1 engines can be heard reverberating throughout the city on race day. But, there's nothing like seeing the action up-close from the track-side stands.

3. Catch a movie from your car at the Lunar Drive-In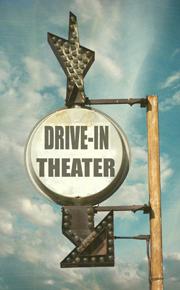 There's nothing quite like watching a film from the comfort of your car.
If you're old enough to remember the heyday of the drive-in, then you'll remember what made it special. If you're young enough not to know, then this is your chance to experience the magic for yourself.
So grab your popcorn and head to the Lunar Drive-In at Dandenong, just like in the old days, you can pay by the car. And on special occasions, there are multi-feature discounts.

2. Take a tour of the famous Phillip Island Circuit
Complete a lap of the famous Phillip Island Circuit. How? It's up to you.
Outside of the racing season, the Phillip Island Circuit is open for a range of activities, including guided tours, practice days, and driving skills classes in prestige BMWs.
Be sure to check the track schedule for your visiting dates, as there's plenty of public events for driving fans. Whether you're into fast cars, bikes, or hot rods, there's something for everyone.

1. Dine with fellow Ferrari fans at Cafe Corretto
Love Ferrari, pizza, and Italian wines? Then this is the place for you.
Decorated in the traditional red and yellow colours, Cafe Corretto features a variety of Ferrari memorabilia, including signed shirts, caps, photos and even an actual formula 1 car hanging in the restaurant (no joke).
 The passion for fiery Italians extends to the food too, with plenty of pizza, pasta, and desserts from which to choose. It's good food, at a good price, in a restaurant with a genuine racing atmosphere.
"Whatever your speed, there's a car activity in Melbourne to match."

About the author
Ace Karts is Melbourne's premier destination for racing enthusiasts. With 700m of outdoor track and super karts capable of 75km/h, this is one driving experience you're sure to remember.
There's also rookie karts for the little ones and barbecue facilities for post-race celebrations. So come down to the Ace Karts track. It's a day out sure to be enjoyed by car lovers and their families alike.
Must Read
Ace Karts on 28 October 2016
It was a fantastic night of racing as our finalists battled it out for the Grand Final win ...
Read more
Ace Karts on 18 April 2016
You've shopped around. You've looked at a couple of karting centres' websites. And after careful thought, you've decided to go with an indoor centre out in the sticks - mainly because it' ...
Read more