Give the Buck the Ride of His Life with Bucks' Parties at Ace Karts
Leave boring bucks' party ideas in the dust.
Paintball shooting? Lame. Brewery tour? Yawn. A round of golf? Really?
Kick boring bucks' party ideas to the kerb with bucks' parties at Ace Karts. There's super karts, full spit roast catering packages, and BYO beers. It's the best way to kick off a stag do.
Go on, give the buck one final thrill. Hit the track, it'll be the ride of his life.
For booking details, check out our bucks' parties page.
Get the adrenaline pumping. Bucks' parties at Ace Karts.
Get behind the wheel of one of our super karts and you'll immediately understand why hitting the Ace Karts track is one of the best bucks' party ideas and the perfect place to kick off your bucks'.
75km/h. That's how fast our super karts go - provided you have the cojones.
Our 700m track is completely outdoor. And we race rain, hail or shine. This isn't your indoor go karting, this is real racing: real fast, real thrills. real spills.
It'll get you and your buck's blood pumping, the adrenaline rushing. It's all the psych-up you and the boys will need for the big day (and big night) ahead.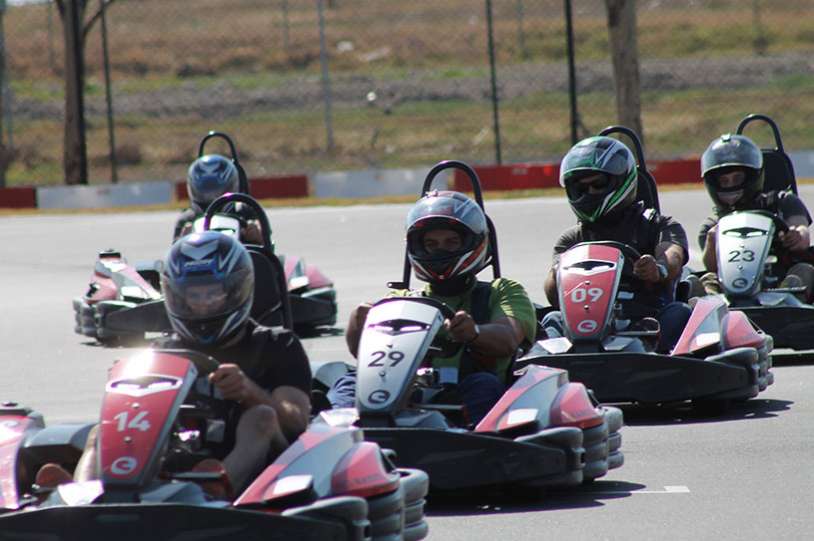 Eat and drink up. We've got fuel for the whole crew.
After the race you'll need to refuel your engines. We've got you covered. Choose from:
Spit roast catering packages
Barbecue snags, skewers, rissoles and more
Sandwich and wrap platters
Or BYO and use our outdoor BBQ facilities
Beers at the track
Bring along a slab, or two. After the race you can enjoy your cold ones in the comfort of our BBQ area.
We have a strict policy of no alcohol before racing. The blood alcohol level for racers is .00. No exceptions.
After the race though, track-side is the perfect place to enjoy a few beers.
How long will we be at the track? It's up to you.
Race fast, or race slow - it's up to you. Unlike some other bucks' party ideas, we're flexible.
At Ace Karts we find some bucks' party crews like to simply race and then hit the next activity. Others like to take their time and enjoy some post-race revelries. It's your choice.
Here's what the schedule of typical bucks' parties looks like.
Schedule (total 2 hours)
11 - 11:30am: Arrival and registration begins. Create a racing profile. While your teammates sign up, you can have a coffee or drink and chat amongst yourselves, or ask our staff for expert racing tips.
11:30 - 11:45am: Safety and race program briefing. All drivers will watch a short safety video before proceeding to the pit lane where they will be briefed on the race format.
11:45am - 12:45pm: RACE TIME
12:45 - 1pm: Exclusive racers presentation (for exclusive races only).
1pm onward: Track-side revelries. Enjoy your catering package or barbecue your own lunch in our BBQ area. Wash it all down with a few brews, or if you prefer, head on to your next destination.
Coach to Centrefold Lounge available
For those who like their karting extra-racy, we've partnered with Centrefold Lounge to offer bucks' parties something a little extra.
After you've finished racing, you can take a coach to Centrefold Lounge in the Melbourne CBD, where you'll be greeted by lovely ladies and treated to an exclusive Ace Karts show.
To arrange this, simply let us know when you make your booking. A Centrefold Lounge representative will then get in touch to discuss the details.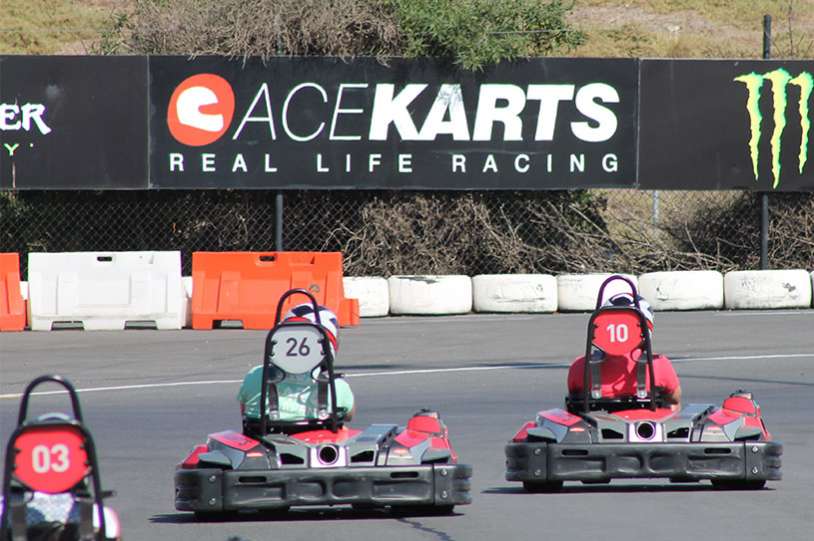 Frequently asked questions
Here are some of the most commonly asked questions regarding bucks' parties at Ace Karts.
1. What happens if it rains?
We race rain, hail or shine. You wouldn't let a little rain spoil your buck's big day. We won't either.
2. Will we have the track to ourselves?
Groups of 12 to 22 get exclusive use of the track — no other racers, just you and your boys.
3. Can we arrange grid girls?
Unfortunately no, we do not arrange grid girls for bucks' parties. If you would like to arrange them yourself, please call us to confirm the details.
4. Can we bump?
While we encourage healthy competition, intentional bumping and reckless contact is not permitted.
5. What is your alcohol policy?
We encourage racers to stick around and enjoy BYO drinks track-side after their race. However, we have a strict zero tolerance policy towards drinking and driving. All racers must have a BAL of .00 on the track.
"Leave boring bucks' party ideas in the dust. Race at Ace Karts."
How to book bucks' parties
Ready to book your bucks' party racing at Ace Karts? Simply call us. We can take care of everything. Let us know if you have any special requirements and we'll make the necessary arrangements.
Alternatively, call us for any general queries you may have about our bucks' parties, other bucks' party ideas, or racing at Ace Karts. We're here to answer any questions you may have.
Learn more on our bucks' parties page or call 03 9360 5005
Must Read
Ace Karts on 28 October 2016
It was a fantastic night of racing as our finalists battled it out for the Grand Final win ...
Read more
Ace Karts on 18 April 2016
You've shopped around. You've looked at a couple of karting centres' websites. And after careful thought, you've decided to go with an indoor centre out in the sticks - mainly because it' ...
Read more