9 high-adrenaline activities for rainy days in Melbourne
The thrills don't stop for a little rain
Melbourne is known for its 4-seasons in 1-day weather. Days that start out sunny and fine can become wet and wild in a heartbeat. And that can quickly put a damper on your plans.
Luckily, there's still plenty of things to do in Melbourne when the weather turns bad. But what if you're after something that gets your blood pumping? Well, you're covered for that too.
Here are nine high-adrenaline activities in Melbourne, for when the wild weather grounds your sky-diving plane or cancels your bungee jump.

9. Battle zombies at Zero Latency
Ever wanted to battle off a zombie hoard in a post-apocalyptic setting? Now you can!
Situated in a warehouse in North Melbourne, Zero Latency combines cutting-edge virtual reality technology and good old fashioned light-guns to create a live-action videogame.
With 400 square metres of game space to roam with friends, and a fully fleshed-out digital world to explore, this is as immersive and thrilling as virtual battles come.

8. Zipline through the Dandenongs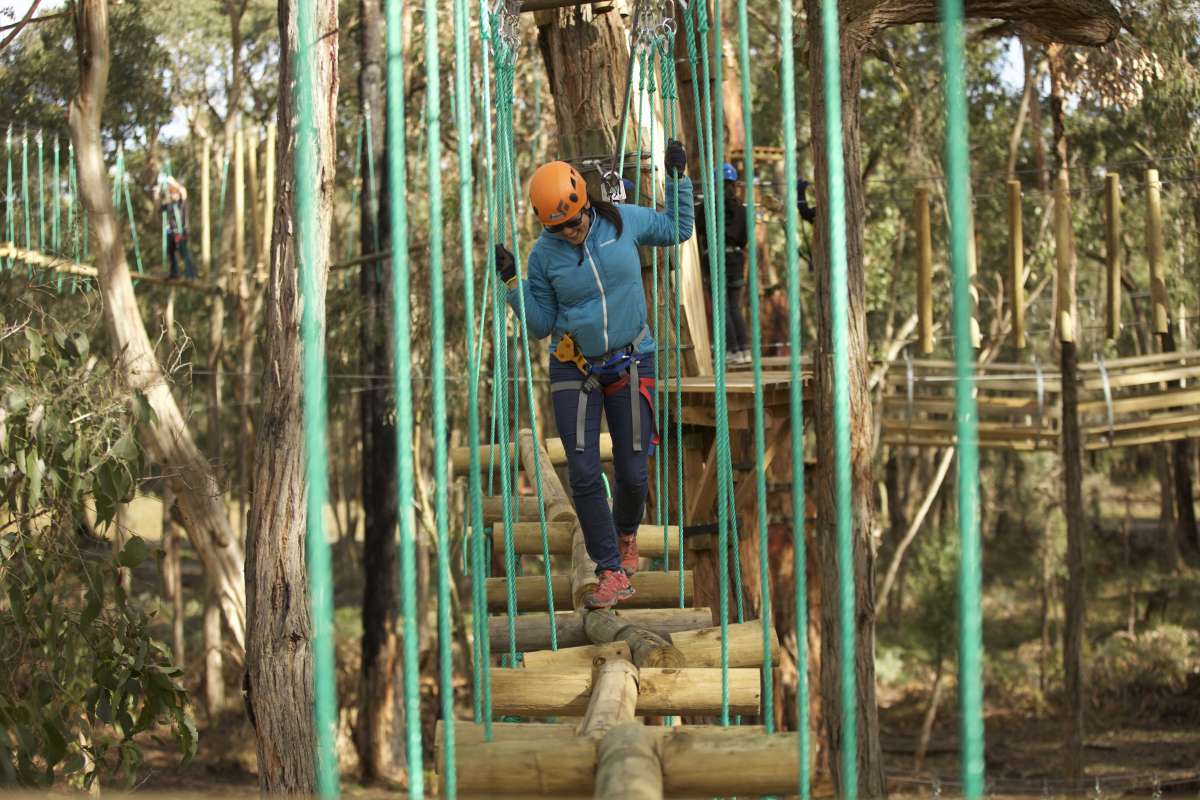 If you like the smell of the rain, make the most of it out in the gorgeous Dandenong Ranges.
Trees Adventure is Australia's Biggest Tree Ropes and Ziplining Attraction. Glen Harrow Park in Belgrave features exciting aerial challenges strung together high up in the beautiful treetop canopy of the Dandenong Ranges near Puffing Billy Railway
Spend 2.5-hours weaving through the canopy between some of the world's rarest trees! Trees Adventure will have everyone from 4-75yrs+ swinging, leaping and ziplining through the forest choosing from 2m low easy courses up to 15m high adrenaline filled ones. Bookings are essential!

7. Swim with the sharks at Melbourne Aquarium
Get up close and personal with a few man-eaters.
The 'Shark Dive Xtreme' experience lets you scuba dive with a range of sharks and other aquatic life. No diving experience is required; after a brief training session, you're good to go.
Remember to check whether the sharks have been fed beforehand (just in case).

6. Cut a wet lap at Ace Karts
A little rain never stopped the V8 supercars, so why should it stop you?
Mastering this 700m go kart track in the wet takes real guts. The karts are capable of speeds of up to 75km/h and that makes powering around every slippery twist and turn a real heart-stopper.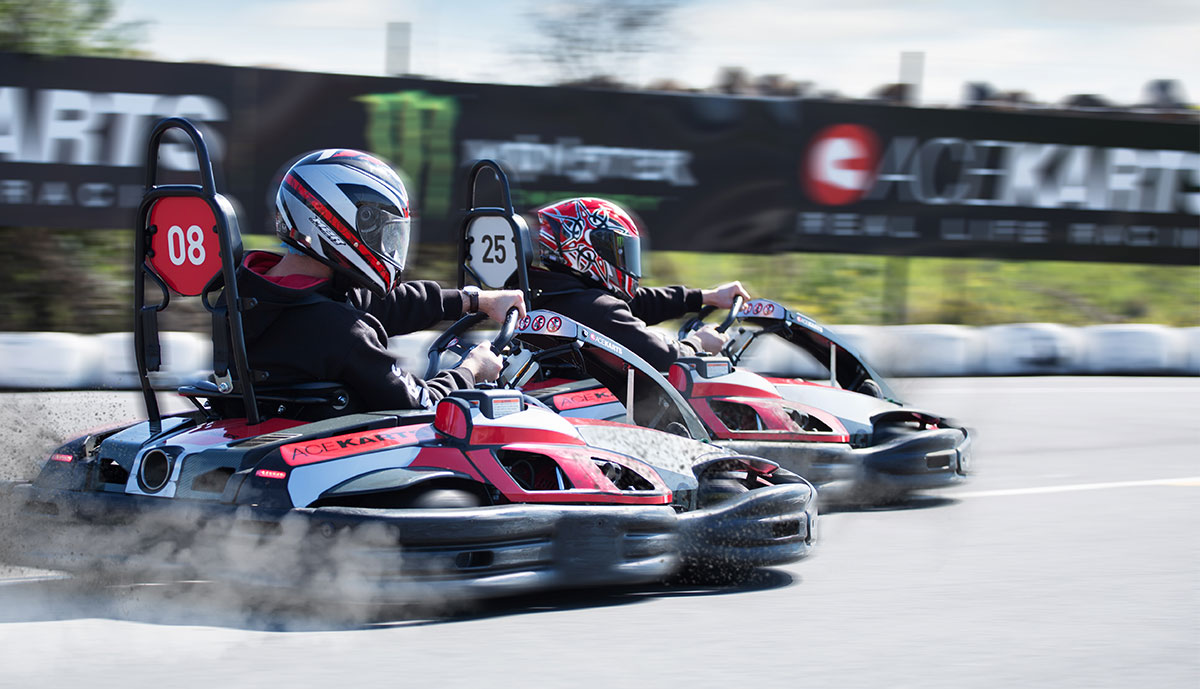 This isn't your tame, run-of-the-mill indoor go karting, this is balls-to-the-wall real racing. So strap on a wet weather suit and show your mates who's boss.
5. Escape the Escape Room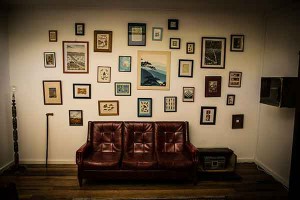 You and your mates. One room. Your only goal is to escape.
Escape rooms pit you and your friends against a series of fiendish puzzles and a ticking timer. Escaping before the clock hits 0 requires teamwork, ingenuity, and quick-thinking.
Rooms include simulations of collapsed mines, magic emporiums, and burlesque bars.

4. Go ghost hunting at Old Melbourne Gaol
Is there a better time for ghost hunting than during a wet and wild evening?
Take a Ghost Tour of the Old Melbourne Gaol and hear the creepiest stories that this grim piece of Australian history has to offer. Includes a tour of the cells, gallows, and general prison spaces.
Even if you're a non-believer, you're sure to enjoy learning about this unique part of Australia's heritage. And, who knows, you might just see something that changes your mind...

3. Get a workout at Hardrock
Missed your weekly cardio? Get your heart rate up at Hardrock indoor climbing.
There's a range of rock-walls to choose from depending on your experience and fitness level. Though, whichever you choose you're sure to get a solid session, with each muscle getting a good workout.
Gear is provided, just remember to wear shoes suitable for climbing and exercise.

2. Take a walk on the Edge at the Eureka Skydeck
Get a thrill while enjoying the best view of Melbourne's cityscape.
The Edge is a completely glass cube (walls, ceiling, floor, everything). It extends from the 88th floor of the Eureka Tower and suspends you nearly 300 metres over the city.
And, afterwards, you can nip by the kiosk for a beer with a view.

1. Stick it to gravity at Bounce
Get amongst more than 100 interconnected trampolines at Bounce's spring-loaded urban playground.
It's a place where hard surfaces are replaced with sponges, airbags and springs. That means there's nothing to distract you from the wall-running, slam-dunking, and gravity-defying leaps.
You can also get a team together for Melbourne's most extreme game of dodgeball.
"Perfect for when the wild weather grounds your sky-diving plane or cancels your bungee jump."
About the Author
Ace Karts is Melbourne's premier racing destination. Our 700m long outdoor track and powerful super karts deliver the most exhilarating racing experience outside of Formula 1.
We don't stop racing for anything short of snow. So, whether it's dry, wet, or wild, you can always challenge yourself and your mates on our track. It's as close as you get to pro racing without a fireproof suit.
Must Read
Ace Karts on 28 October 2016
It was a fantastic night of racing as our finalists battled it out for the Grand Final win ...
Read more
Ace Karts on 18 April 2016
You've shopped around. You've looked at a couple of karting centres' websites. And after careful thought, you've decided to go with an indoor centre out in the sticks - mainly because it' ...
Read more