What to Do in Melbourne for Easter 2017
What's on for the Easter Break in Victoria's capital
Visiting Victoria's capital for the long weekend break? Or are you a local looking for ideas on what to do in Melbourne for Easter 2017? Either way, you're in luck!
Our fine city is filled with fun activities for families, couples, groups of mates, and even solo adventurers. Here are five things which we recommended you try in Melbourne for Easter 2017.
5. There's footy every day of the Easter Long Weekend
Melbourne loves sport, and no sport is more loved than Aussie Rules. After all, the city is the heart of the AFL. Catching a game is easy too, as there's footy on every day of the long weekend.
The schedule is as follows:
Good Friday: North Melbourne v Western Bulldogs at Etihad Stadium
Saturday Before Easter: Melbourne v Fremantle at the MCG
Saturday Before Easter: Carlton v Gold Coast at Etihad Stadium
Easter Sunday: Collingwood v St Kilda at Etihad Stadium
Easter Monday: Hawthorn v Geelong at the MCG
Be sure to grab a pie and sauce while you're there. It's traditional!
4. Try a religious show like no other with the Book of Mormon
It wouldn't be Easter without Jesus, would it? For something quite unlike the typical church service, though, try the Book of Mormon. It's a stage show from the creators of South Park.
The Book of Mormon has been causing controversy and fits of laughter the world over. And, it's now landed in Melbourne. It tells the twisted tale of two young Mormon missionaries sent to Africa in order to preach the gospel.
It's been called a masterpiece, a modern Life of Brian, and absolutely hilarious. However, here's a word of caution: this is no Lion King, it's probably best to leave the children at home for this one! Those easily offended should perhaps try something else too.
3. Run an Easter Holiday Race at Ace Karts
A lot of businesses close over the Easter Break, but, we at Ace Karts aren't one of them. Our go karts will be hitting the track from Good Friday all the way through to Easter Monday.
Our 700 metre outdoor track is Melbourne's finest. With 7 corners, 22 racer capacity, and karts capable of reaching 75km/h on the main straight, you're sure to be blown away by your racing experience.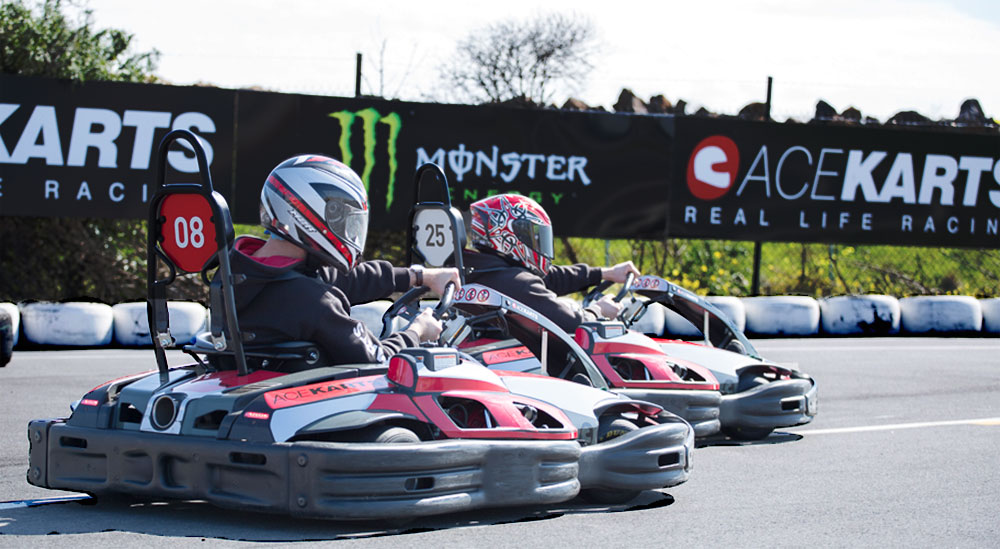 It's fast, furious and packed with thrills. There's rookie karts for the younger ones and super karts for those who really want to push their limits. And, we race all day and into the night, rain, hail or shine.
Secure your spot. Book online today.
2. Unleash your inner-child at the Melbourne Easter Show
Looking for ideas regarding what to do in Melbourne for Easter 2017? Are you a sucker for a classic show and carnival? The Melbourne Easter Show may be just right for you. Held every year at Lawson Poole Reserve in the suburb of Cranbourne, it's a great day out for both kids and kids-at-heart.
There's stage shows, activities, and rides, including the classic big wheels, starships and energy storm. It's just like the carnivals that visited your town when you were a child.
Other highlights include a fireworks display at night, magic show, and animal farm. There's also meet-and-greets with Toby the Dinosaur and the Easter Bunny himself.
1. Have a laugh at the Melbourne Comedy Festival
The Melbourne Comedy Festival runs from March 29 until April 23, which means you can catch the last of the shows over the Easter Long Weekend.
There are loads of great local and international acts to choose from. Including big names like Arj Barker, Wil Anderson, Luke McGregor and more. Or you could always take a punt on one of the dozens of smaller acts. You never know, you might catch the next big thing.
Tickets are available online or at the box office. Be sure to book ahead for the more popular shows as they regularly sell out.
About the author
Can't decide what to do in Melbourne for Easter 2017? Come down to the Ace Karts tracks, it's the city's most exciting outdoor go karting circuit and Melburnians favourite place to race.
We're open all Easter Long Weekend.
Good Friday: 9am - 10pm
Saturday Before Easter: 9am - 10pm
Easter Sunday: 9am - 10pm
Easter Monday: 9am - 9pm
Secure your spot. Book online or call 03 9360 5005
Must Read
Ace Karts on 28 October 2016
It was a fantastic night of racing as our finalists battled it out for the Grand Final win ...
Read more
Ace Karts on 18 April 2016
You've shopped around. You've looked at a couple of karting centres' websites. And after careful thought, you've decided to go with an indoor centre out in the sticks - mainly because it' ...
Read more