How fast can an Ace Kart go?
Everyone likes to go fast. Big kids. Little kids. Cats getting chased by dogs. So, if you want to go faster than a speeding bullet (or faster than it goes downhill when someone mentions their ex on a first date), listen up, 'cause we've got news for you.
Go karts are faster than a space rocket filled with monkeys, faster than a vegan hipster signing up for a green juice convention. They provide the modern answer to greased lightning, and you don't have to be John Travolta to find the experience of revving one up as racy as Sandy Dee's makeover.
Yeah, yeah, you might be thinking, 'Sounds like go karts go pretty fast.' But the question remains: Where are the fastest go karts to be found in Melbourne? And—we can hear the wheels in your mind turning—exactly how fast can a go kart, uhh, go?
Patience, young grasshopper. You are new to the world of outdoor go karting, but you will learn. We have great knowledge to share.
Outdoor go karting is the fastest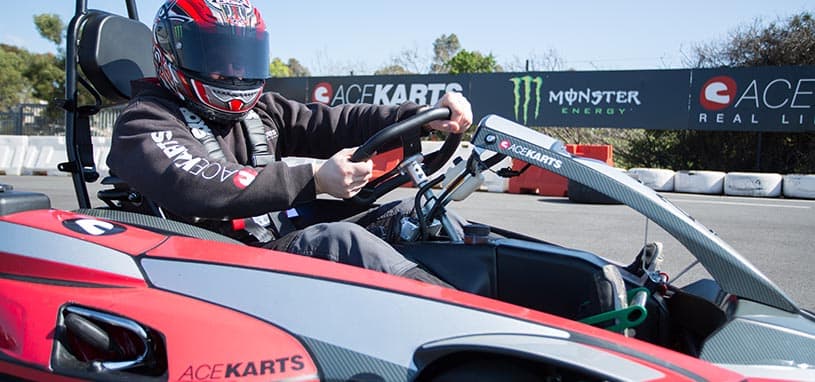 Not to be cheeky, but can you think of any competitive motorsport—any at all—that takes place indoors? No? Neither can we. The major drawback to indoor karts is that they don't handle like real racing machines.
They're like the Diet Coke of go kart racing—still enjoyable, but missing the essential sugar/adrenaline rushing through your veins.
Our man on the track, Asdren Salija, tells us that due to the limited space in indoor karting centres, these karts don't reach very high speeds. Pfft. Who wants to go slow? Most people race to let off steam and beat their mates (or better yet, their boss)!
We offer real racing experiences on our Ace Karts outdoor track. It's 700 metres of pure excitement, and it stays open in all conditions. If there's a bit of rain, you can simply grab a wet weather suit from the pits at the track we've even got professional-standard floodlights that allow you to race at night!
For those who love to go fast, there's no go kart track like our open-air baby. It has a series of intensifying bends to test the limits of your cornering skills and a track sensor system so we can deliver real racing stats. We guarantee the most authentic motorsport experience outside of the professional world; and if you race fast enough, you'll earn a place in our Ace Karts Hall of Fame.
The mechanics of going fast
You've probably already figured this out, but the mechanical components of a go kart contribute to how fast it can go. The engine and the tyres are the main players in this game. The weight of the kart—consider it a power to weight ratio—is also a deciding factor.
Many go karting centres will only have one type of kart, but at Ace Karts, we have three. They're all awesome, and they allow us to make sure that everyone is catered for—because even though we're speed demons, we understand that your dad, your date, or your whiny little brother may not be.
Powered by Honda engines, our fleet is perfectly suited to our outdoor circuit. Here are the top speeds that our go karts are capable of:
Super Karts: a near-highway speed of up to 75 km/h thanks to their finely-tuned Honda engines

Two-Seater Karts

:

 a lickety-split speed of up to 55 km/h courtesy of their mid-mounted 270cc or 390cc engines

Rook

ie Karts: a crowd-pleasing speed of up to 40 km/h for those who want to earn their racing stripes in a leisurely manner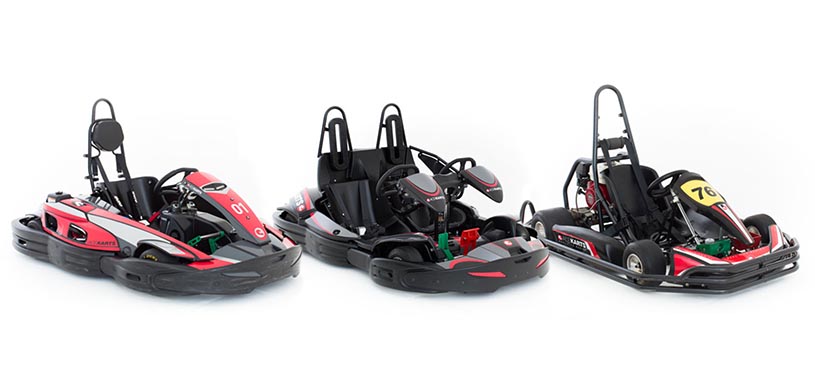 The faster the go kart, the more responsive the handling and steering is, so there's nothing to stop you from chasing hairpin turns and corners in our Super Karts. All our karts are built to the same safety standards followed by French automobile manufacturers (fancy!)and also adhere to all Australian karting safety requirements. In the world of go karts, they're the crème de la crème - that's the cream of the crop in everyday language.
Speedy tips and tricks for optimal performance
If you're a competitive animal who wants to shave more time off your lap record, our race expert Asdren has a few tips to offer to help you push our Super Karts to their 75km/h capacity. First up, he says reaching high speeds on go karts requires driving as smoothly as possible and trying to avoid 'sliding' around corners.
Secondly, he says you should always brake before going into a turn - not while turning!
And finally, he reckons you should read the section on navigating turns in this article because it tells you exactly what you need to know in an incredible amount of detail (we must have had a full-fat Coke that day).
Got questions?
Look, we understand that you want a go kart that goes faster than a toupee in a hurricane, but some things are easier to talk about over the phone. Give us a call on 03 9360 5005 if you've got any questions whatsoever about our go karts, our outdoor circuit, or how you can reserve your spot for a race. We're staffed by pro go kart racers who love a yarn.
We do Christmas parties, corporate parties, buck's parties and a bloody good catering service. If you're simply rocking up with a bunch of mates, we can make sure you have the whole track to yourself with a little advance notice. Let us know how we can help take your excitement levels up a gear, and we promise to deliver.
To chat to us about booking a real racing experience, call between 9am to 9pm, seven days a week, on 03 9360 5005. If you're ready to go ahead and book, you can do that too.
Must Read
Ace Karts on 28 October 2016
It was a fantastic night of racing as our finalists battled it out for the Grand Final win ...
Read more
Ace Karts on 18 April 2016
You've shopped around. You've looked at a couple of karting centres' websites. And after careful thought, you've decided to go with an indoor centre out in the sticks - mainly because it' ...
Read more