How does go kart steering work?
Whether it's your first time or you've done it on hundreds of occasions, go karting is an exhilarating experience. From the Whether veteran racer and a 5 star Uber driver to the Mario Kart rookie, when it comes to steering all you need is a firm grip and these simple tips.
Ace Karts real life racing is a world class go karting experience. If you fancy yourself as Baby Driver 2.0 you'll enjoy our slick 75m outdoor loop. We've got the best go karts in Australia, and you'll be tearing round the track at peak speed.
Book online for arrive and drive deals and if you're budget bound head in on Tight Ace Tuesday for a 20% discount on your package.
How to steer a go kart
Skilled steering comes with practice. but some teachable tips will help you to get the most out of your karting experience.
Tight grip on the steering wheel: Try the 'quarter to three' position and don't let go. This gives you precise control and you'll be able to react to slides much faster.
Don't turn into corners too early: This is a common mistake! It can help to slow the Kart a bit before you turn and aim for a later apex where you accelerate.
Use all of the track: You can use as much of the track as you like and more track means more speed. The wider you can make each corner the easier it will be to carry more speed.
Don't steer too aggressively: In a kart, precision is the key to being fast. When turning a kart, apply the steering smoothly and gradually.
Don't lean: Even if it feels like you should, avoid leaning towards the apex when you're turning. This puts more weight on your inside wheels, and make it harder to straighten up after a turn.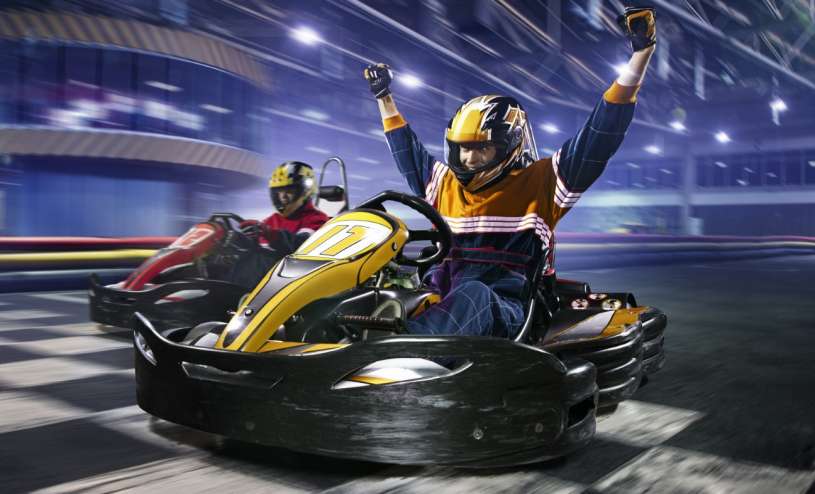 Pictured: Improper steering technique


How does go kart steering work?
Go kart steering is easy when you get the hang of it, but it is quite unlike driving anything else. Are you used to racing in a regular car? That won't necessarily be an advantage. Ace's karts, like all go karts, do not use rear wheel steering. Plus, they are without suspension.
Go kart steering wheels are made of aluminium and attached to a steering shaft and two tie rods (left and right). These connect to the spindles on each side, that turn when you turn your steering wheel.
Compared to other karts, Ace racers are in a whole other league and are built for speed, agility, comfort and control. The premium Super Kart has a highly responsive power wheel, the Rookie Kart has easy steering for beginners and the 2Seater Kart even has the option for passenger steering, which kids love.
Maintenance and industry standards
At Ace, we keep all of our karts well maintained. They're in top mechanical form, so you can expect a smooth ride every single time.  Our go karts are designed and built by SodiKart, a world-class manufacturer based in France. Their quality, innovation, and racing spirit is a perfect fit for our legendary track.
Although we love speed, safety comes first. Ace Karts complies with Australian karting safety requirements from Karting Australia. Our state-of-the-art karts are the reason our racers come back time and time again. So (like a car) we keep them in great nick with regular servicing.
Ace Karts provides options for all ages
When driving a go kart, steering becomes more difficult the faster you go. One of the reasons people choose Ace Karts over other go-karting locations is that we can accommodate different age, skill and adrenaline needs. We have three epic go kart options, with different speeds (and steering ease) unlike most go kart tracks that only have one.
Super Karts: Belt around in this bad boy, equipped with a Honda engine at near-highway speeds of up to 75 km/h.
Two-Seater Karts: Pedal to the metal will see you and a mate reach a whopping 55 km/h.
Rookie Karts: Zip around in our entry level racer at speeds of up to 40 km/h, and learn the ropes before you graduate to big school.
This means if you're a novice, a family, or a speed demon ready for some merciless rivalry, we've got the wheels to match.

Put our steadfast steering tips to the test and plan your next event, party, or casual race session at Ace Karts. Book tickets online and strap in for your next pulse pounding spin.
Must Read
Ace Karts on 28 October 2016
It was a fantastic night of racing as our finalists battled it out for the Grand Final win ...
Read more
Ace Karts on 18 April 2016
You've shopped around. You've looked at a couple of karting centres' websites. And after careful thought, you've decided to go with an indoor centre out in the sticks - mainly because it' ...
Read more